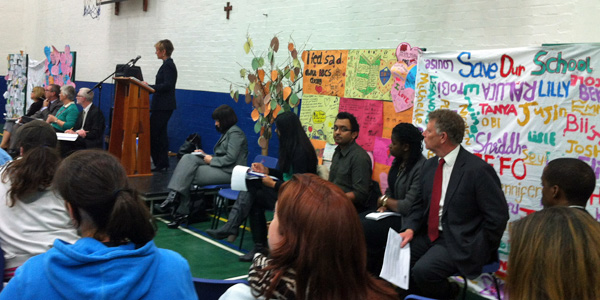 Greenwich Council's director of education fled a public meeting about plans to close Blackheath Bluecoat school this evening after being barracked with cries of "get out" by students.
The meeting had been called as part of a consultation into proposals to shut down the school on Old Dover Road, Blackheath, which is suffering from dwindling pupil numbers.
But Gillian Palmer and her staff walked out of the meeting after an anti-cuts campaigner took to the microphone to demand they leave so parents could organise their own action against the planned closure.
Headteacher Barnaby Ash tried to reconvene the meeting, but Ms Palmer and her team had left the building, to the dismay of many of the staff and parents.
"This is not going to save this school," Mr Ash told parents.
Before the meeting suddenly ended, Ms Palmer came under fierce criticism from parents, staff and students, with many hailing recent big improvements in exam results.
She said the school had only attracted 81 out of a possible 180 students this year, and the council's education budget could not afford to maintain its deficit of £1.5 million.
"We had four targets for this school – to improve teaching, improve standards, to make it more popular, and see an increase in its rolls," she explained.
While teaching and educational standards had improved markedly, she said, the school was still saddled with a poor reputation which deterred parents from sending their children there.
But many speakers praised the quality of the teaching, and accused Greenwich Council of not backing the school by not encouraging parents to send their children there.
One student said the school was "like a family".
"I wake up every morning happy to come here – doesn't that tell you something?"
A teacher said: "I find it very odd that closure is the only option that is being considered, when it guarantees that the deficit will not be repaid."
National Union of Teachers member Helmut Heib, of Deptford, challenged Ms Palmer to publicly withdraw the closure proposal, before calling on the council officers to leave.
"If you're not prepared to withdraw this proposal, all those in favour of asking you lot to leave, so we can organise a campaign to stop the closure of this school, raise your hands," Mr Heib, who is also a member of Lewisham Anti-Cuts Alliance (LACA).
"Get your stuff and get out," he continued as a sea of hands went up, and Ms Palmer's team left to cries of "get out".
Mr Heib then took the microphone to call for volunteers, before headteacher Mr Ash took the microphone back in the hope that the council team would return.
After the meeting, Mr Heib told greenwich.co.uk he was sorry if his actions had upset anyone: "Most of the people have said 'well done', some have very acerbically said this is not the way to go."
But he added: "I sat there for an hour and fifteen minutes, and everyone was in favour of keeping the school open. I could see that at least 20 parents had already left, so I asked if they were prepared to reconsider, and they said, quite categorically, no.
"Then I said, why not leave, so we can organise a proper, cohesive campaign to keep this school open?"
He added: "Those people who are unhappy should have another meeting and I won't turn up, and we'll see where we are at the end of that – which, as you can see, is a draft proposal to close Blackheath Bluecoat school.
"It's a meeting to manage the closure of a school, not to take measures to ensure the roll rises."
While a Greenwich Council-funded school,  29% of Blackheath Bluecoats students come from outside the borough, with most of those from Lewisham.
LACA has previously been involved with a campaign to stop Deptford's Tidemill school becoming an academy, and an occupation of New Cross Library.
Blackheath Bluecoat can trace its history back to Greenwich's Blue Coat School for Girls, which opened in 1700 and was based on Point Hill for much of the 20th century. In 1959, it merged with the Blackheath and Kidbrook School, based on Old Dover Road.
A formal consultation process on closing the school will begin on 8 November with the publication of a notice in council weekly Greenwich Time.
The final decision will be made by Greenwich Council's cabinet on 12 January. No councillors were present at this evening's meeting.