'Emotionally searing' The Laramie Project talked to 200 townspeople following Matthew Shepard's torture and murder in 1998.
Joseph C Walsh is the young Greenwich director behind the "searing" Laramie Project coming to Greenwich Theatre later this month. Based on the life and brutal 1998 murder of US student Matthew Shepard, the play's subject matter – prejudice and homophobia – is still, as illustrated by Greenwich's very own recent , a hot topic. Greenwich.co.uk spoke to Joe to find out more.
Joe, you're bringing the Laramie Project to Greenwich Theatre - your local theatre - later this month. What's the play about?
It examines a small town's reaction to the murder of 21-year-old University of Wyoming student Matthew Shepard in 1998. The original writers of the play travelled to Laramie six times in the 18-months after Shepard's death and conducted over 200 interviews with people in the community.
Those interviews paint a fascinating, sometime funny, incredibly moving and insightful portrait of a town struggling with its own identity and international media scrutiny.
So every word in the play is 'real'?
Yes. It's completely based on interviews with the people of Laramie as well as journal entries and court documents. The play does an incredible job structuring this into a satisfying theatrical event.
You've produced it before haven't you? What's the history behind the show?
It was premiered in Denver, Colorado in February 2000 and then in New York in May 2000. Since then it's become one of the most produced plays in the USA and has received productions worldwide including two major London productions. Our production is the first major London outing for the show since 2005.
And what's your relationship with the show?
It started in 2000 when I saw the original Off-Broadway Production. To this day it is one of the most powerful, memorable and special experiences I have ever had in the theatre. It became a goal of mine way back then to direct the show and try to share it with as many people as possible.
Last year we presented it at The Space in Mudchute and revived it as part of the Dublin International Gay and Lesbian Theatre Festival. We're thrilled to bring it to Greenwich Theatre – my home theatre.
It's been described as a 'must-see' and 'emotionally searing'. Why emotionally searing?
Because the audience is aware that every word said on stage came from a real person. The town of Laramie is shown warts and all, and we as an audience are asked to come to our own conclusions about the people and the incidents presented.
The subject matter itself is hugely emotive, and the play is so well structured that the audience becomes completely wrapped up in the story-telling.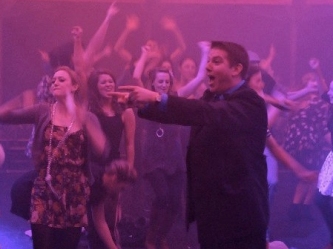 Joe Walsh in action in West Side Story. Photo: Mat Roberts / Facebook
Tell us about yourself. You're from the States but live in Greenwich…
I'm originally from a city called Lynn just outside Boston. I grew up performing and in my teens began directing. Theatre has always been a part of my life. I grew up in a political family and although I didn't follow directly in their footsteps I feel that my interest in projects like The Laramie Project comes from that background.
Is where you are from anything like Laramie? Are you from Smallsville USA?
Lynn is a fairly big city, so no. But I think what is amazing about The Laramie Project is that I do see some of where I grew up in it and the people I knew. I think the themes and concerns expressed by the townspeople are universal.
How did you end up in London and Greenwich?
I moved here eight years ago to do my Master's Degree in Directing. I've lived in and around Greenwich the whole time.
And now you work fulltime as a director?
At the moment I split my time between freelance directing and education. I'm the musical theatre director in residence for Plumstead Manor, and previously was the head of musical theatre for Greenwich Theatre.
As a director, I've directed half-a-dozen UK premieres, a couple of Irish premieres, an acclaimed Irish tour of The King and I and a London revival of The Anniversary. In the West End I served as resident director on When Harry Met Sally and Coyote on a Fence.
What's Laramie like now?
The company returned to Laramie for the 10th Anniversary of Matthew Shepard's death to see how the town had changed. It seems that many people feel that Matthew's death opened a dialogue that changed people's opinions about sexuality. Others think nothing has changed and there are some who try to excuse the entire incident as a robbery gone wrong.
Matthew's father said, "Matt's beating, hospitalization and funeral focused worldwide attention on hate. Good is coming out of evil. People have said enough is enough."
I suppose one of the messages from the play is that prejudice and bigotry happens anywhere, and can have dreadful consequences. What do you think then when you see something like the News Shopper letter row, in your own big-city back yard?

Well, it's people like Mrs Fitzsimon's that make me so proud of the work we are doing with this play. Mrs Fitzsimon is perfectly welcome to her beliefs and opinions, however, it does concern me that this letter may be read by some as a reason to commit violence against members of the gay community – marginalisation and judgement of a minority group plant the seeds of violence.
I would very much like to share The Laramie Project with Mrs Fitzsimon and hear her opinions on the Matthew Shepard case. I will try to get in touch with the News Shopper and offer her free tickets to the show.
Are you a campaigner at heart? Is that why you've brought this play to the stage?
Yes, I think I am. I was brought up in a political family and have always been drawn to theatre with a social conscience. I love the theatre. I love all genre of theatre, and I do think that at the heart of anything you can find a message to share.
Can theatre really change the way people think? Or is it usually a case of preaching to the converted?
I think great art can change the way people think. When I saw the original production of The Laramie Project there were older women sitting in front of me. At the interval one said she wasn't enjoying it and wanted to leave. The other convinced her to stay. By the end the one who wanted to leave had to be helped out of the theatre by her friend because she was so moved. It had a profound impact.
Living in a place as seemingly open as London it is very easy to forget that people have fought hard and some have lost their lives in order to open up a dialogue about sexuality and all forms of equality.
I know your local is the Rose and Crown, next door to the Greenwich Theatre… what are your other local haunts / top tips?
Well, there is obviously our gorgeous park, lovely beer gardens and of course Greenwich Theatre and Picture House. I can also guarantee that the Organic Café has the best breakfast in London.
And what's next for you? And the Laramie Project?
As I said, we're keen to bring The Laramie Project to a wider audience. We'd love to take it on tour and find a home for a longer run in London. We're also developing a very exciting schools project for the show, and are hoping to present The Laramie Project: 10 Years Later at Greenwich Theatre in October. Personally I've just begun writing a new musical and am going to be touring Germany with a theatre company.
Thanks Joe. That's enough from us. Plug your play in 25 words or less.
The Laramie Project is an important, entertaining and moving piece of theatre. It will open your mind and make you think about yourself and your community. It is a special piece of theatre that will resonate with everyone, and leave you contemplative and inspired. Oh, that's 44!
The Laramie Project, Greenwich Theatre
Tuesday 21 September – Saturday 25 September 2010
Greenwich Theatre Box Office: www.greenwichtheatre.org.uk / 020 8858 7755