"Christmas isn't Christmas without it, it's sparkly, it's fun, enjoyable for all the family – everybody needs a bit of glitter in their life!"
Nicole Faraday is sipping a hot toddy, nursing a rough throat and trying to think of a reason why we should all love panto.  She's in the middle of a Snow White run at the Shaw Theatre on Euston Road, the other side of town for this SE10 based actress, and we are having a post-show drink at a bar in Euston station.
I have just sat through a fairly desperate two-and-a-half hours, lightened only by her and another actor, a pro comic called Andrew Fleming. Everyone has said it, including the reviewer from The Stage: she and he hold the whole thing together and provide the only entertainment in an otherwise pretty bad panto.
The lead, Snow White, is played by "ex-EastEnders star" Madeline Duggan. You could replace her with a mop in an Alice band and it would do a better job. She's only 16 and is a TV actor not a stage darling, so she almost has an excuse, but then again, at £17 a ticket, the producers should be biting their fists in shame. The "ex-Gladiators star" Wayne Gordon is also lacking, but then he's just on for some muscled-up eye candy, while Prince Charming, well, he'd be better off playing the wooden puppet in Pinocchio.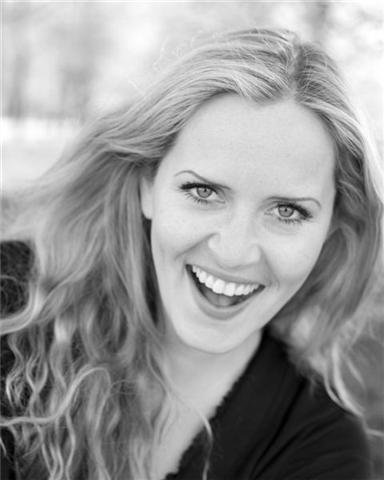 Nicole Faraday
Anyway, having left my critic head at the door – it's for six-year-olds and it's panto, after all – I had settled in to watch. I've known Nicole since we were neighbours in Greenwich, so my interest is not really professional. The first time I met her she was knocking on the glass door dressed as Barbarella, all silver hotpants and fur trim. "I can't stop, I'm on my way to a party, but I just wanted to say Hi!" She came in and held court for 40 minutes – "Ooh! Wine! Go on then!" – and that was it, neighbourly friends.
"I like to think that although I play the evil character that I add a bit of sparkle and jeu-jeu to the audience's Christmas," Nicole is saying.
Show me what jeu-jeu is, I ask.
"I can't show you for the newspaper, can I!" she laughs. (Despite telling she insists I'm writing this for a grand newspaper, I'm not I say, it's for Greenwich's local website). I get to sing fabulous big belty songs and I get to be evil with a wicked laugh – hahahahah." That's jeu-jeu.
Nicole is a proper actress. She is trained, can sing and has had proper TV roles: she enjoyed mini celebrity before it was 'Celebrity' as Snowball in the hit TV series Bad Girls. It was set in a women's prison and the show had – still has – a cult following. It's still shown around the world too, and she has made a mini career out of it, winning an award for her role in Bad Girls the musical in the West End.
At the time of her TV-fame she knocked back a photoshoot for one of the lads' mags – or rather, her agent did. "She said it wasn't what serious actresses did." It might not have been quite the done thing, but it turned out to be a surefire route to mainstream attention and fame for many.
So instead of instant Celebrity and naked exposure, she has gone the long route – the 'serious' route. TV roles in stalwarts like Doctors, The Bill and Casualty, with theatre roles that take advantage of her powerful stage vocal. She toured for months playing US singer Eva Cassidy, before seeing another Celebrity, Steps singer Faye Tozer, take on the role a year later. She got it back again though, playing her at Greenwich Theatre and on tour in the UK.
And of course panto. Every year she gets to play a wicked queen or an evil witch.
"This is the third time I've played Wicked Queen in Snow White, but I've played Evil Queen in Sleeping Beauty too." The Stage praised her performance this year, saying she was "bosomy and fun". The British Theatre Guide called her "suitably vile" with a "wicked laugh".
"She's my favourite part because she's such an archetypal baddie," she says. "And she goes along with other bad characters I've played."
She likes it, she says, because, "you can play it glamorous but her heart is black as night." She's attractive but "evil and cunning with it". She adds, "Otherwise you're just playing an old witch in make up."
Nicole is too professional to diss her other cast members, but it's clear she is head and shoulders above the others, as is her co-star Fleming. Doesn't she get annoyed, seeing TV Celebrities steal the limelight – and the pay cheques – from trained pros?
She demurs, and instead talks about "market forces" and "bums on seats". It is important though, she adds, to have a "mix" of those who are "experienced and fully trained and used to the genre" as well as "people recognisable from the television".
We talk about something else. Dwarves. One of the weirdest parts of Snow White is how, in this production and others, the Dwarves are so often played by children in costume. Often with a recorded soundtrack of their voices. It's freaky.
She laughs outrageously very briefly and then composes herself. "This is what I'd like to say," she begins. "Every year, when there are lots of Snow White's going on, there is a national dwarf shortage." Really? "And they get paid a fortune. Sometimes they have to fly dwarves in from other countries." Who knew?
"Consequently, a number of productions have to rely on children from local dance schools wearing massive heads, which is what we've got."
Or rather, they did. The day after our interview Nicole posts on her Facebook page (1,100 friends and rising) that two of the children playing dwarves were stopped from going on stage mid-show because the production didn't have the right licenses for the child actors. "Chaperones will be charged," is how she put it.
Nicole has lived in Greenwich since 1998. She spent 10 years in a flat in West Grove before the whole building was redeveloped into one house. "My entire flat is now the kitchen."
"Then I moved to Nevada Street," she says, "opposite the Greenwich Theatre stage door and the Rose and Crown, which is one of my favourite pubs. We used to use my living room as the smoking area. Then I moved to Maze Hill, where I live now."
New Year will see her hanging up her Wicked Queen crown for another year and embarking on new theatre projects.
"I'm going to be working on a new idea called Band of Gold the Musical written with Kay Mellor," she says very enthusiastically. "We're just workshopping it but I'm very excited about it."
Then there is a one-woman show: "Two 45-minute sets with a piano and guitar at the Pheasantry on the King's Road on January 22nd."
And there is her regular stint hosting Show Off, a cabaret night in London's West End where the audience – very often off-duty or post-show West End performers – take advantage of an open mic to belt out show tunes.
It's got quite a following: "We've had Nick Moran from Lock Stock, and Keira Knightley turned up last time." After joining in with the Oom-Pa-Pa sing-a-long at the end the Hollywood star said she'd enjoyed herself and "would be back".
Very jeu-jeu, I say.
"Yes," she laughs wickedly, "Very!"
Nicole Faraday  hosts Show Off on 7 January and plays the Pheasantry on 22 January