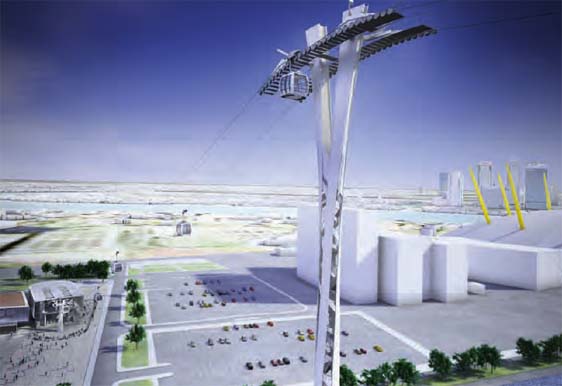 The government's advisor on architecture, CABE, has welcomed the proposed cable car link between North Greenwich and the Royal Docks.
Their review of the scheme applauds "the elegance, inventiveness and originality" of the towers that will straddle the Thames, suggesting they will make an "iconic contribution" to this stretch of the river.
The designs for the stations are described as "less inspiring" and "lacking the ambition" of the towers, although the report notes that the "the south station seems well located, on the axis of the new Greenwich master plan."
The review says that the crossing may "become a major visitor attraction" as well as needing to cope with a surge of users following events at the O2 and ExCel and so space will be required to accommodate "large numbers of visitors" and more consideration needs to be given to "passenger marshalling and control".
WCs should be installed at the stations, CABE says, and if the stations become a place to "meet and linger" rather than just pass through, as they believe is likely, there might might be a "greater demand for cafes, restaurants and other facilities surrounding these stations than is currently predicted."
Planning applications for the scheme have been lodged with Greenwich and Newham councils.