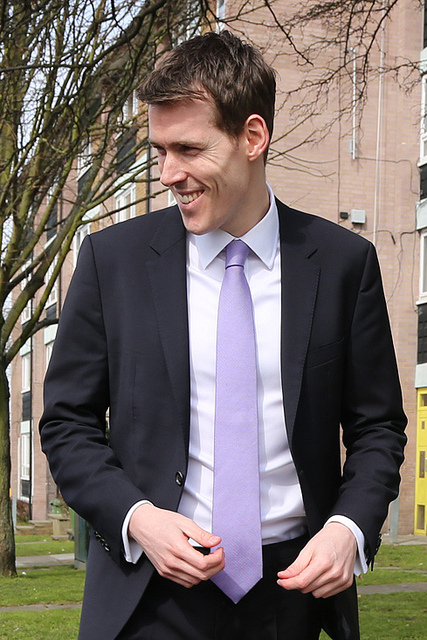 COUNCILLOR Matthew Pennycook has today announced his resignation to the Chief Executive of Greenwich Council.
The move means that a by-election in the Greenwich West ward can now take place on the same day as the General Election in which Pennycook is standing to be the MP for Greenwich and Woolwich.
Cllr Pennycook's letter to Chief Executive John Comber says it has been an "enormous privilege" to serve as Greenwich West councillor but he has decided now "is the right time to stand down from the council in order to avoid the costs which might arise if a by-election has to be held after Thursday 7 May."
Pennycook was first elected as a councillor in 2010 and then re-elected at last year's elections. He was selected in December 2013 to be Labour's candidate at the General Election after incumbent MP Nick Raynsford announced he wouldn't be standing again.
The General Election takes place on May 7th.
Full text of Matthew Pennycook's letter to John Comber:
Dear John,

 I am writing to let you know that I have decided to stand down as an elected member of the Royal Borough of Greenwich with effect from today.

 As you know, my normal term of office ends in 2018. However, I have decided that now is the right time to stand down from the council in order to avoid the costs which might arise if a by-election has to be held after Thursday 7 May should the people of Greenwich and Woolwich give me the honour of electing me as their Member of Parliament at the forthcoming General Election.

 It has been an enormous privilege to have served the residents of Greenwich West ward over the past five years and I'm incredibly proud of everything that we have been able to achieve together during that period. I very much hope to have the chance to continue to serve the area and its residents in the years ahead.

 Lastly, can I thank you for your support during my time in office and ask that you please pass on my sincere thanks to the dedicated officers with whom I have worked over the past five years. Their support, advice and commitment to making our Borough a better place in which to live is appreciated enormously. 

Best wishes,

Cllr Matthew Pennycook
10pm update - response from Twitter
From fellow Greenwich West councillor, Aidan Smith
Sorry to lose 1 of my fantastic #Greenwich West council colleagues, @mtpennycook, but hope to gain him as my M.P. on 7th May.

— Aidan Smith (@aidanmasmith) March 16, 2015
From Conservative Greenwich & Woolwich candidate, Cllr Matt Hartley
Labour candidate @mtpennycook resigns as Councillor to become MP. In other news, votes aren't counted until after the polls close on 7 May

— Matt Hartley (@MattHartley100) March 16, 2015
Despite rumours, didn't think @mtpennycook would actually go thru with it: quits as Cllr as thinks he'll soon be MP. Breathtaking arrogance

— Matt Hartley (@MattHartley100) March 16, 2015
From Charlton Lib Dems
Mixed reactions to Labour's Matt Pennycook resigning today 'in case' he's elected MP. Some say 'arrogance', others 'fair'. I say 'chutzpah'.

— Charlton Lib Dem (@CharltonLibDems) March 16, 2015