Hold onto your hats, Boy George is coming to Greenwich Theatre. He'll be attending the off-Broadway hit The Temperamentals on 2 June and will take part in an on-stage discussion after the show.
Also taking part will be former top London policeman Brian Paddick and playwright and screenwriter Patrick Wilde.
The play's director, local Greenwich boy Joseph C Walsh, will have the job of keeping everything in order, or not.
Set in late 1940s America, The Temperamentals tells the story of two men – communist Harry Hay and Austrian refugee and designer Rudi Gernreich – who together set up the Mattachine Society, the world's first gay rights organisation.
The story explores this "relatively unknown" chapter in history – a time when being gay was illegal and often dangerous.
It is the second time in a year that Joe has brought an award-winning show back to Greenwich Theatre. He wowed audiences last year with From Laramie With Love, a tale about the murdered US teen Matthew Shepard. We interviewed him back then here.
This time he hopes to do the same. The Temperamentals is coming fresh from Ireland where it scooped an award for its run at the International Dublin Gay Theatre Festival earlier this month.

In a press release Greenwich Theatre welcomed the play's arrival, which is showing for two nights only:

"The play marks an important moment for Greenwich Theatre – for the first time we have brought together two of our young supported companies – Wild Oats Productions and City Lights Theatre Company – and pooled the resources of the three companies to create the show.

"We are proud to have carried the name of Greenwich Theatre to Ireland with such success, and delighted that such an eminent panel will join us on 2 June to discuss the play."
Tickets are £12.50, concessions £7.50, through Greenwich Theatre
http://www.greenwichtheatre.org.uk/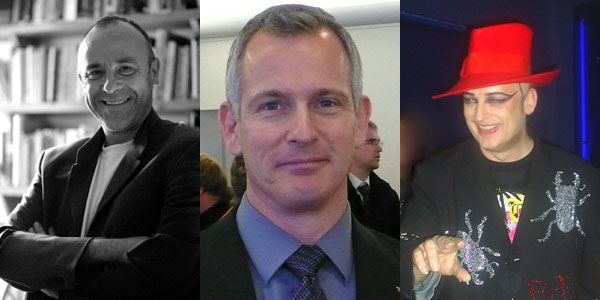 Photo: Patrick Wilde, Brian Paddick and Boy George will be on stage on 2 June