Greenwich's remaining gas holder has moved a step closer to being demolished after planning officers from Greenwich Council approved a technical plan from the owner SGN for bringing it down.
The Royal Borough of Greenwich as Local Planning Authority hereby determines that
the development described above and referred to in your Prior Notification application
received on the 15 March 2018 falls within the limits and procedures of permitted
development… Prior approval for the development is required and is hereby granted. [full decision notice]
When it was built in the 1880s by George Livesey on the Greenwich marshes, as the peninsula was then commonly called, it was the largest gasometer in the world with a capacity of 8,600,000 cubic feet. That accolade was snatched from it by a second, now-demolished, holder built at the East Greenwich Gas Works in 1892 with a capacity of 12,200,000 cubic feet.
But while everyone knows the giant gas holder thanks to its looming presence on the horizon, rather less know that it has a name. Or a nickname, at least. A close look at stories in newspapers in the years after it was built show that it was known as "Jumbo."
In The Times in 1889, an article referred to "the monster gasometer in Greenwich-marshes known as 'Jumbo,' believed to be the largest in the world."
"The great gasometer, which has been christened Jumbo" was how The Globe newspaper described it in December 1889.
The Kentish Mercury reported in 1890  "another monster gasometer in the marshes" was being erected "by the side of 'Jumbo'."
Perhaps because of the larger gasometer built alongside and the continued growth in gas holder sizes, the moniker fell out of use and there seems to be no further instances of the name used in the 20th century.
The aesthetic appeal of gas holders was not, and is not, universally appreciated. 'The Sphere' newspaper complained in 1906 that the view had already been "imperilled by ghastly gasometers" and then "finally destroyed" by the newly-built power station chimneys. It was an "eyesore… caused by commerce."

The Sphere – via the British Newspaper Archive
This photo below from the Britain from Above archives provides an excellent aerial view of the two gas holders.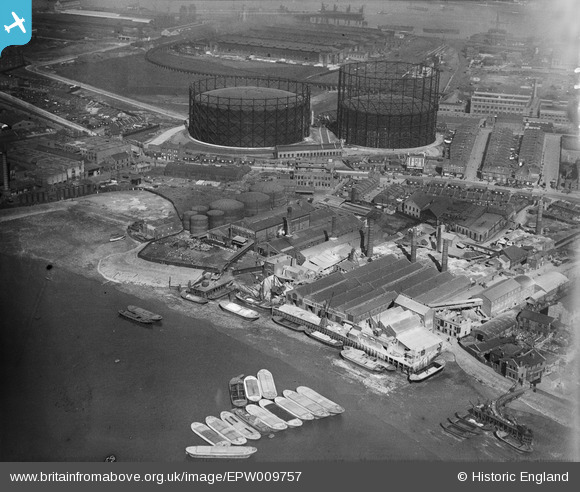 © Historic England https://britainfromabove.org.uk/en/image/EPW009757
Jumbo, or Gas holder No 1, as it's more formally known, suffered damage in the massive Silvertown explosion of 1917, again during World War II, and then from the IRA bomb in 1979, which more seriously damaged its bigger neighbour Gas holder No 2 and ultimately led to it being demolished in the mid-1980s.
Read more about the history of the gas holders on the peninsula
The substantial repairs and replacements to the original structure is one of the reasons that Historic England recommended last year that the structure didn't reach the criteria for being listed. The Department of Culture, Media & Sport declined a Listing proposal and issued a Certificate of Immunity meaning that the gas holder cannot be listed, or have a building preservation notice placed on it by the council, for five years.
Explaining why it was pursuing demolition, owner SGN told The Pipeline earlier this year that:
It's no longer sustainable for us to keep these structures in a safe and visually acceptable condition long-term. We're also committed to redeveloping the land they sit on for use that's more beneficial to the local community, such as housing and business premises.
Although some other gas holders have been saved elsewhere and repurposed while retaining their historic appeal, such as the oft-cited Kings Cross development, that same fate now appears unlikely for Gas holder No 1.
If the iconic structure once known as Jumbo is indeed demolished, as now seems increasingly likely, the local landscape will be changed forever with the loss of one of Greenwich's most visible reminders of its industrial history.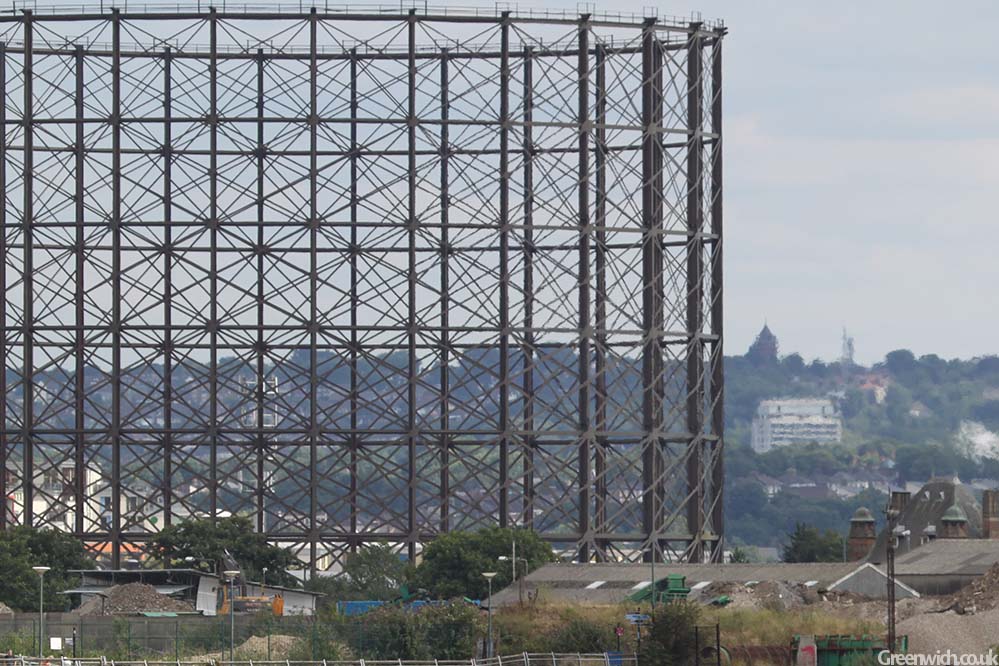 UPDATE:
Hannah Brett, spokesperson for SGN told Greenwich.co.uk:
Greenwich Council has approved our application to dismantle our Greenwich gasholder, so we are able to proceed with this process. However, we now need to undertake further planning of our own before any dismantling work begins on site. This may take some time, but we hope to start work within the next 12 months. Although we not yet have a confirmed date for dismantling of our Greenwich gasholder to begin, we will update the local community when we do.

Our part of our dismantling programme, we are committed to celebrating and capturing the history of our gasholders. We understand that to many people these iconic structures act as a visual reminder of an area's history. Therefore, we are working with communities, local history groups and museums to ensure each gasholder we dismantle has its history captured for future generations to learn from.
UPDATE 27/04/2018
Greenwich Industrial History Society has created this petition to save the gasholder.