With the Christmas and New Year lull out of the way, I thought I would resume with the weekly round-ups of what's been happening in Greenwich.
London's Air Ambulance service has been marking its 25th birthday - and trying to raise funds for a second helicopter - so it gave me a good chance to post on twitter this picture I got last year of the helicopter next to the Cutty Sark. Here's some information about how you can support the service.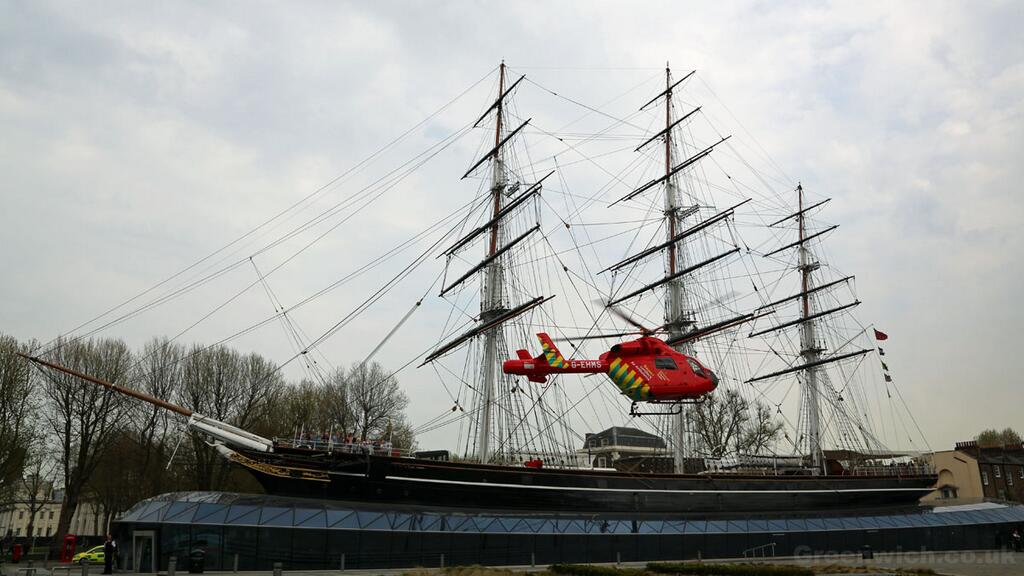 It's also been a week of local anniversaries. Last Monday, it was 108 years to the day since the rather wonderful Woolwich Town Hall was first opened by Will Crooks MP. On Thursday, it was the 141th anniversary of the order that first established the Royal Naval College at Greenwich in buildings that had been left empty since the Royal Hospital for Seaman closed.
Those anniversaries come from Dave Male's Greenwich Day by Day, reproduced on the Greenwich Guide website.
Information has come, via a Port of London Authority notice to mariners, that work will soon begin on the swing bridge across the mouth of Deptford Creek. Contractors are expected to begin work around the 11th February and the project should take nine months to complete. I've put more information on the forum.
Also on the forum is a query from new user Dan who has noticed a number of properties going on the market in Christchurch Way.
If you have a question or something to say about Greenwich, it's easy to register and start a discussion.
You may have heard that HMS Argyll is currently up in the Upper Pool of London, moored next to HMS Belfast. The Type-23 frigate quietly made her way up river on Wednesday morning, passing Greenwich about 1am. She departs on Sunday afternoon, shortly after 4pm, so there's a chance to see her sailing by. It will be after sunset but there should be enough light to see her - expect her to pass Greenwich at or shortly after 4.30pm. Here was her sister ship HMS St Albans passing the Old Royal Naval College a few years ago.
On Tuesday evening, Rev Chris Moody from St Alfege Church will give a talk to the Greenwich Historical Society under the title Hawksmoor and the Commissioning of the New St Alfege. Non-members are welcome but there's a £3 admission charge.
If you know of a community event coming up, you can add it to the website's What's On section using this page.
As well as appearing on the website, this round up goes to many hundreds of subscribers via email. If you would like to receive it in your inbox, you can sign up here.