IKEA in Greenwich
IKEA's application to turn the big Sainsbury's and Comet into a big new branch of the popular furniture shop divided opinion when the plans were revealed. The matter will be decided upon this week when the Planning Board assembles at the Town Hall on Monday evening at 6.30pm. Council officers have recommended that the plans be given the green light.
Just as likely to divide opinion as IKEA is the long-running controversy of the Run To The Beat event. Last year the event moved the start and finish to Greenwich Park and this year the organisers have decided to move it out of Greenwich altogether and it will take place in Wembley. Will you miss it or are you glad it's going?
Hotel Checks Out

Another application that was causing controversy recently appears to have been quietly dropped for now.  Simon has updated this forum thread with the news that Frank Dowling's application for a large hotel, replacing Trident Hall behind the Trafalgar Tavern, has been withdrawn.
Blackheath Fireworks
Cabinet member councillor John Fahy conducted a survey through his website to see if people thought the council should once again help fund Blackheath Fireworks and the results were revealed last Monday. It turns out they do, by a massive majority. 91% of the people who took part said the council should help fund the event. Read more on his website.
You can keep up to date with the best of the local blogosphere with the Greenwich blogs page on Greenwich.co.uk.
Frankenstein
Another week, another movie being filmed in Greenwich. This time the Old Royal Naval College hosted the cast and crew of Frankenstein, which stars Daniel Radcliffe and James McAvoy. There were lots of excited tweets as the news spread that the Harry Potter star was filming at the ORNC, which is of course also home to the University of Greenwich. Thanks very much to Graham Long for sharing this photo from shooting that took place on Wednesday evening.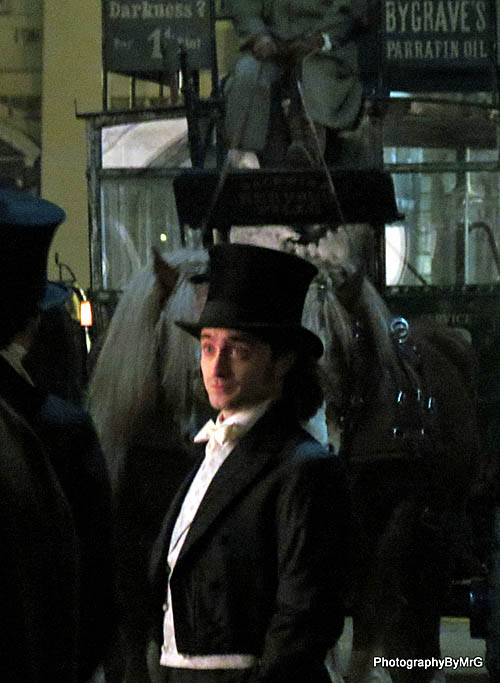 The ORNC has recently appointed Will Palin as its new Conservation Director and there was a lovely gathering at the wonderful Warwick Leadlay gallery during the week to welcome him to his post. Horatio's brilliantly funny and mischievous poem was an unforgettable, and unrepeatable, highlight. Best wishes to Will Palin in his new and important role!
And still with the Old Royal Naval College... a new series of concerts have been announced for this summer with names like Goldfrapp, Russell Watson and Jools Holland performing. Get more information here.
Snow's No Show
It was reported in the week that London and the south east might get hit by snow yesterday (Friday). The white stuff failed to materialise though so it has turned out to be a pretty snowless winter. Looks like we may have to wait until next winter to once again see scenes like this.
Two people, however, did get snow on Friday as I delivered these two large prints to two very nice Greenwich residents. If you've seen a photo on the site you would like as a print or have a special request you would like to have photographed, please feel free to send me an email.
Greenwich Series
As well as the council's Planning Board on Monday night, it's also the next of the Greenwich Series events where interesting folk give a short talk to interested listeners above a pub in Greenwich. More info here. Thanks to organiser Matt for adding it to the site and if you have an event coming up you would like to publicise, you can do the same here.