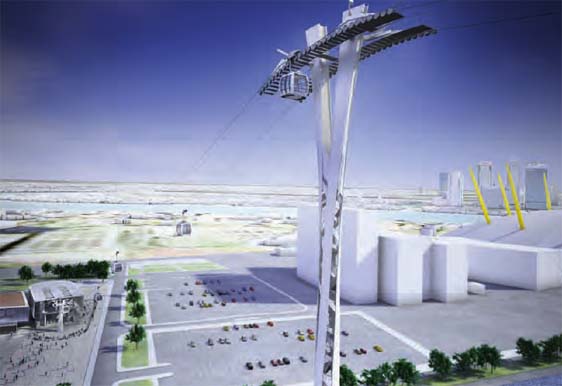 Planning applications have been submitted to Greenwich and Newham councils by Transport for London for the construction of a new cable car system across the Thames.
The new scheme would provide a new direct transport link between the O2 and the Royal Victoria Dock, carrying up to 34 gondolas over 50 metres above the Thames.
Each gondola will be able to carry up to 10 people, creating "improved improved cross-river connectivity for pedestrians and cyclists".
The scheme, which TFL believe will become a "visitor attraction in its own right", consists of a station in North Greenwich, a station at Royal Docks and a number of steel towers with the two main towers both rising to about 85 metres in height.
The station at the Royal Docks would be the "drive station" where the system's electric motor is housed. The Greenwich station would be the "return station" and also home to the gondola garage.
TFL are proposing that the Greenwich station be built a few hundred metres from the O2 on hard standing that is currently used for visitor coach parking.
The cable cars, considered to be "one of the most reliable forms of public transport in the world" according to the planning application, could be in operation by the time of the London 2012 Olympics.
A fare structure has not been devised yet but TFL plan to integrate the cable cars into the Oyster system and are forecasting suggested single fares at £2.50 for Oyster PAYG users and £3.50 for other users.
When news of the scheme first emerged in July, Nick Raynsford MP told Greenwich.co.uk that the scheme was a "nice little project" which would be good for tourism, but it wouldn't address the "much wider problem" of the "absolutely hopeless cross river links" in the area.