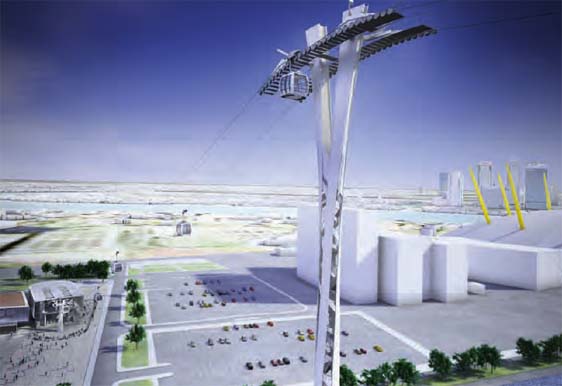 A cable car system across the Thames took a step closer to becoming a reality last night after it won the unanimous support of Greenwich Council's Planning Board.
The TFL scheme to build a cable car linking the Greenwich Peninsula with the Royal Docks has already been backed by Newham Council.
Once built, the Thames Cable Car will carry 34 gondolas - each with a capacity of 10 people - on the short journey fifty metres above the Thames.
In their review of the scheme, CABE praised the "the elegance, inventiveness and originality" of the towers that will straddle both ends.
For further coverage of the planning committee meeting, see Darryl's report at 853.
Nick Raynsford MP told Greenwich.co.uk last year that the scheme was a "nice little project" but not one that would address the "absolutely hopeless cross river links"