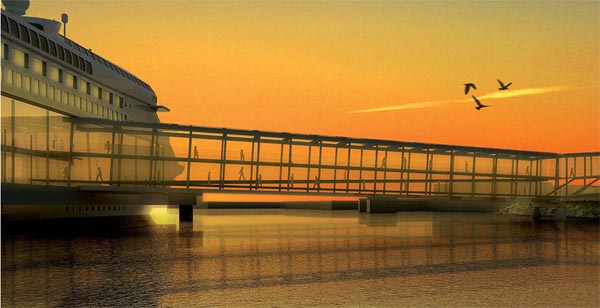 A planning application for a cruise liner terminal, hundreds of new homes and a new hotel has been approved by Greenwich Council.
The mixed use development will be built at the disused Enderby's Wharf adjacent to Christchurch Way on the south western side of the Greenwich Peninsula.
In addition to 770 new homes and a 251 bedroom hotel, the 3.6 hectare site will also include shops, a creche and a gymnasium. The cruise ship terminal will have one cruise liner berth capable of accommodating  ships up to 240m in length. There will also be two berths for Thames riverbus services.
The land includes the Grade II listed Enderby House which was built in the mid 19th century. The property will be extended and converted into a restaurant "with accompanying exhibition and tourist" space.
Once completed,  365 full time equivalent jobs are expected to be created and a "skills academy" will train 16 – 21 year olds for opportunities at the cruise terminal and hotel.
The site itself was formerly owned by Alcatel Lucent – still based on adjacent land – and it was from here that the Enderby Brothers were pioneers in the development of telegraph cables that would be laid across the Atlantic.
The proposals received the unanimous backing of councillors at last week's meeting of the council's Planning Board.
James Blakey, commenting on behalf of developers Mason Properties who are behind the scheme, said:
"We are delighted that the Planning Boardhas decided to endorse the recommendation to approve the Enderby Wharf proposals. The collaborative approach to preparing the proposals over the past 18 months has resulted in a comprehensive mix of uses, which will bring a range of economic, environmental and social benefits to the borough and London as a whole. At the heart of the proposals is the provision of an international cruise liner terminal in the maritime heartland of Greenwich and London. The proposals have optimised the deep water within the River Thames to create a new tourist destination in a highly accessible location".