A NEW coat of arms for Royal Greenwich has been shown off for the first time.
The new coat of arms (seen above), which retains the "We govern by serving" motto, was designed by the College of Arms and marks the bestowing of royal status on the borough by the Queen.
The honour comes into effect February 3rd - a month later than was originally expected. The Letters Patent confirming the designation, signed by the Queen, will be presented to the borough.  A fireworks display to mark the event is planned in Greenwich town centre on February 5th.
Leader of the Council, Chris Roberts, commented: "The designation of Greenwich as a Royal Borough in the year of The Queen's Diamond Jubilee will be followed in the Summer by the arrival of the London 2012 Olympic and Paralympic Games.
"These two major events will help place Greenwich in the world's spotlight, and I am as determined as ever to make sure that Greenwich seizes this opportunity to attract benefits for local residents that will last for generations to come."
Cllr Roberts revealed last year that the Queen would be visiting Greenwich to reopen the restored Cutty Sark and that the National Maritime Museum, Royal Observatory and Queen's House would become known as Royal Museums, Greenwich.
Previous coats of arms used in Greenwich
London Borough of Greenwich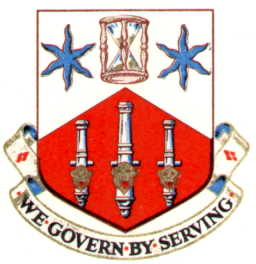 Greenwich Metropolitan Borough
Woolwich Metropolitan Borough
See these and more coats of arms for local authorities at CivicHeraldry.co.uk