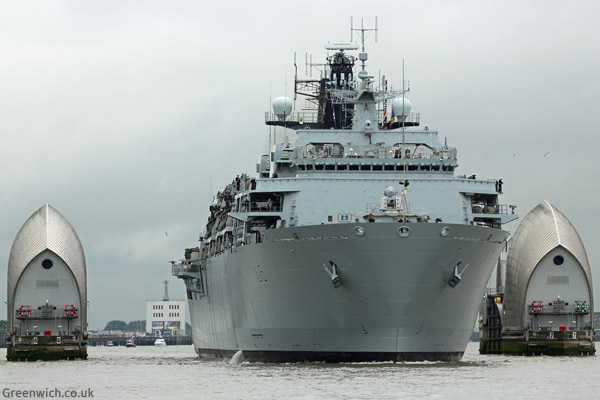 THE FLAGSHIP of the British navy arrived at Greenwich at lunchtime today.
On a grey, wet day, the 176-metre long HMS Bulwark transited through the Thames Barrier, passed the O2 and Old Royal Naval College and then moored at Greenwich Shipping Tier.
The visit by Bulwark, under the command of Captain Dean Bassett, is one of a number of events this year to mark the 350th anniversary of the Royal Marines. The ship will also receive a visit from the First Sea Lord who is to present the awards for the Royal Navy's prestigious Peregrine Trophy photo competition.
The ship will open its doors to the public on Saturday and Sunday this weekend. Tickets for the chance to explore the Albion-class assault ship were quickly snapped up once available but there will be exhibitions and presentations in the Old Royal Naval College grounds this weekend for landlocked spectators.
For Greenwich-based Royal Marine Callum Tacey, 22, the visit to London is a proud chance to come home with the ship he works on.
"When you get the opportunity to come in to London, it's a good feeling to be at home again, whilst at work too." What landmarks did he look out for as the ship came in to London? "The view of Canary Wharf and the Isle of Dogs reminded me of home - it would have been the Cutty Sark but we were facing the other way!"
His role on the ship is as a Signaller. "We maintain comms with the boats, make sure the radios work and we pass information on up the chain of command such as contact reports or if there are casualties. That all gets sent up the line through us," he explains.
With the First Sea Lord on board, a spectacular air and seaborne capability demonstration will take place on Thursday evening between 8.30pm - 8.45pm.
Once she leaves Greenwich early on the morning of June 3rd, Bulwark will head to Portsmouth for a capability demonstration off of Southsea and then sail to Normandy for D-Day commemorations.

After being turned at Blackwall, the ship was towed past the O2.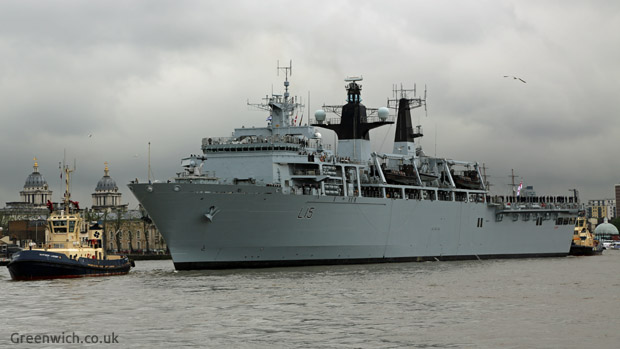 She passed the Old Royal Naval College.

The stern of HMS Bulwark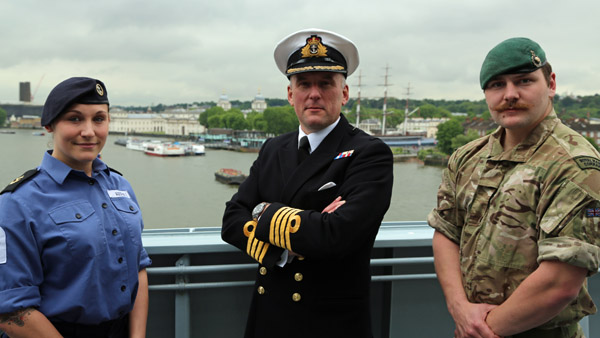 Crew member Agostine, ship's captain Dean Bassett and Royal Marine Callum Tacey from Greenwich

Greenwich as seen from HMS Bulwark