AN OLD wharf off Deptford Creek could become home to a heritage ship, if an artist's plans are realised.
Well known local artist Peter Kent believes that Dowell's Wharf outside Waitrose in west Greenwich is the perfect place to put a historic ship.
Kent, known for his distinctive drawing style and his love of the river, unveiled the idea in a recent article on his blog, River Watch Returns.  
Further explaining his vision for the area to Greenwich.co.uk, he commented:
"It's the natural entrance to Greenwich. It celebrates the past as well as the new. No one's aware there's a waterfront there as they whizz across the bridge. I feel this would be a landmark project within walking distance of the town centre."
The topographical artist, who has received commissions for work from Trinity House and the Port of London Authority amongst others, thinks a significant vessel would be best suited to the currently empty space and has suggested a historic lightship or a coaster ship.
Kent has previously suggested that the Queen's row barge Gloriana could be based at the site on top of a barge but it now looks likely that vessel will have a new, permanent home in Kingston upon Thames.
Dowell's Wharf, adjacent to the recently-built apartments at New Capital Quay, was previously known as Creek Bridge Wharf.  It was used for unloading coal by William Dowell and Company which is where it, and nearby Dowell Street, get their names from.
Deptford Creek was once a bustling part of the industrial river with various wharves in operation but the only remaining one still in use is Brewery Wharf which receives regular visits from Prior boats carrying sand.
Would you like to see a heritage ship sited at Dowell's Wharf?

Panoramic view of Dowell's Wharf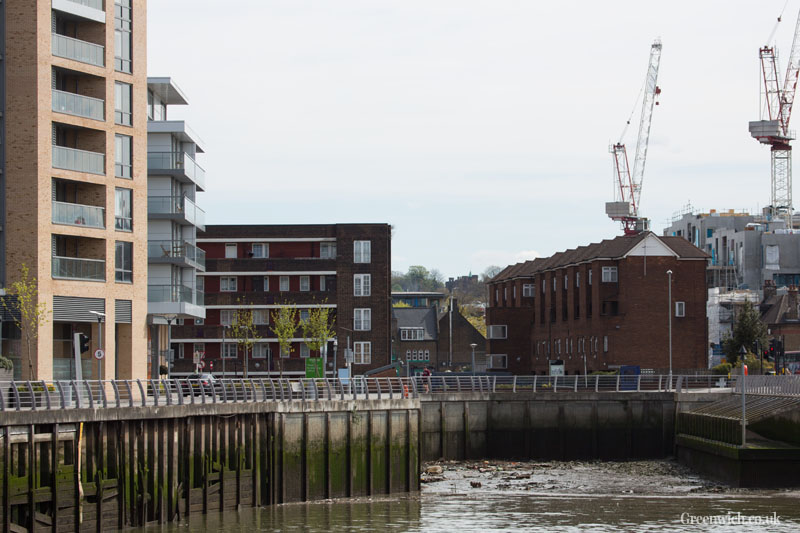 Coal was previously unloaded here by the merchant William Dowell and Company

Much rubbish currently finds itself washed into the area.

1867 map showing Creek Bridge Wharf. Reproduced with the permission of the National Library of Scotland