UNIQUE residential cruise ship MS The World arrived in Greenwich yesterday afternoon for a five day visit to the capital.
Launched in 2002, the luxurious vessel has made regular appearances in Greenwich with its most recent visits being in 2013 and 2011.
The 196-metre long ship has 165 apartments on board which are owned by the ship's residents. Reports say that the most exclusive suites on board cost $13million.
Some of the facilities on board include restaurants, a grocery store, golf simulator and putting green, jogging track, swimming pool and tennis court.
The World sailed up the Thames yesterday morning, arriving at her moorings at Greenwich shortly after midday. She is due to depart on Friday morning at 4am.
The next stops on the ship's itinerary are Belle Isle, off Brittany, followed by Spain and Portugal.
Photographs of The World arriving in London 

The World transits through the Thames Barrier

Iconic London landmarks come into view such as Canary Wharf and the O2.

The World last visited London in 2013.

Watching the World go by: a couple of spectators at Primrose Pier, Greenwich.

Having been turned around near the O2, The World is assisted backwards in to Greenwich by two tugs.

The ship passes Enderby Wharf where London City Cruise Port is planned for.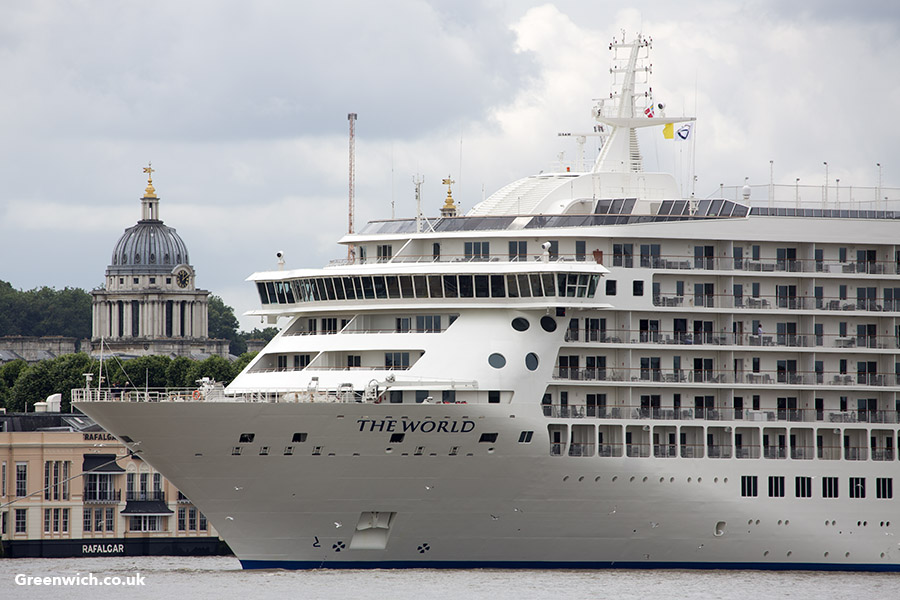 Two Greenwich landmarks - the ORNC and the Trafalgar Tavern - seen behind the ship.