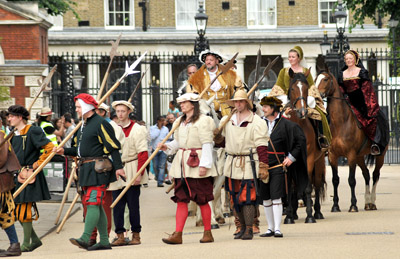 A weekend of events to mark the 500th anniversary of Henry VIII's accession to the throne attracted an audience of thousands.
The two day event, titled the "Henry Days", was jointly organised by Greenwich Council and the Greenwich Foundation - the charity that looks after the Old Royal Naval College.
There was face painting, Tudor dancing, archery and demonstations of knights in combat. Probably the best time was had by the actor playing Henry VIII who got to lord it up round Greenwich as the most famous English king there has been.
Councillor John Fahy, Cabinet member for Culture and Olympics, said, "Henry VIII is undoubtedly one of the most significant figures in world history and his extensive links with Greenwich are a source of great pride in the borough. As well as being Greenwich-born, his chief residence was the former Greenwich Palace, which is now the Old Royal Naval College, and therefore was the most appropriate venue to commemorate such a special occasion. I was absolutely delighted to see so many people in attendance and I hope everyone enjoyed the occasion."