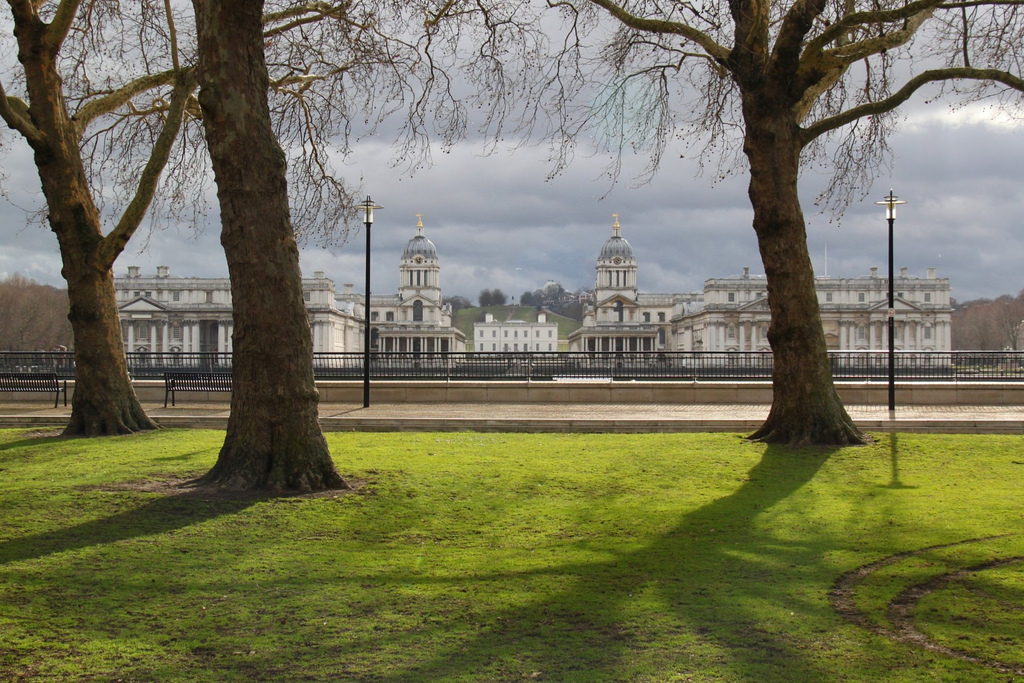 The Old Royal Naval College (ORNC), picture above from across the Thames Island Gardens, is one of the most impressive landmarks on the Thames riverside. Its beautiful buildings and landscaped grounds are an important part of the UNESCO World Heritage Site in Greenwich.
The imposing buildings were built on the site of a former Tudor Palace between 1696 and 1712 as the Royal Hospital for Seamen at Greenwich or, more simply, Greenwich Hospital. They provided a home for the Greenwich Pensioners – elderly seamen who needed accommodation.
As seamen were increasingly being supported as "out-pensioners" who didn't live on site and instead drew financial support, the hospital closed in 1869 and it was shortly after taken over by the Royal Navy who used it to train officers.
The Royal Naval College existed the late 1990s. Now home to the University of Greenwich and Trinity Music College, the ORNC is simply stunning and offers visitors the chance to see its chapel and the amazing Painted Hall – where Lord Nelson lay in state before before being buried.
Buy tickets now to visit the Painted Hall at the Old Royal Naval College
You will also see the ORNC is many a movie as the area is often chosen by filmmakers for its stunning period design. Films and television programmes to have been shot at the Old Royal Naval College include:
– The Foreigner
– The Darkest Hour
– The Crown
– Muppets Most Wanted
– Skyfall
– Thor 2
– Les Miserables
– Pirates of the Caribbean – On Stranger Tides
– The Iron Lady
– The King's Speech
– Sherlock Holmes
– The Duchess
– The Queen
– Gulliver's Travels
– The Final Cut (House of Cards Trilogy)