I know there's nothing more quintessentially British than a cup of tea, but these days as you walk through Greenwich, you're more likely to come across people clutching a coffee. With a seemingly ever growing menu of coffee options available, Greenwich.co.uk picked the classic caffè latte for the latest in its series of taste tests.
Buenos Aires Café
Cost of a latte to go: £2.30 (86 Royal Hill, SE10 8RT)
The only tourists you'll ever see in Buenos Aires would be very lost ones. Located at the top of Royal Hill, it's very popular with locals and is busy throughout the day, particularly in the morning after the school run. If you want to linger, there's several tables inside and out, and a few leather sofas.
The key to a successful latte is, of course, the milk, and they certainly got it right here. The latte was perfect, in my opinion. The coffee was just on the right side of strong, and the froth on the top provided a good amount of milky goodness, but not too much.  This may have been the most expensive latte in my taste test, but it was also the best.
L'Artisan
Cost of a latte to go: £1.95 (93 Trafalgar Road, SE10 9TS)
This tiny café aims to replicate a French café in East Greenwich, just a few steps away from the Arches Leisure Centre. When I say tiny, I mean tiny—there are only seven seats in the café, and not a lot of space beyond that. But what it lacks in space, it makes up for in taste.
The latte I had was very French, as you might expect, in that it was very strong. There was a decent amount of froth on the top, but it didn't do much to lessen the strength of the coffee. But given that it was pouring rain on the day I had it - that statement pretty much sums up our spring - it was just the sort of boost I needed to get me through the afternoon.
L'Artisan may be small, but it packs a big latte punch.
Paul Rhodes
Cost of a take away latte: £2 small/£2.20 large (37 King William Walk, SE10 9HU)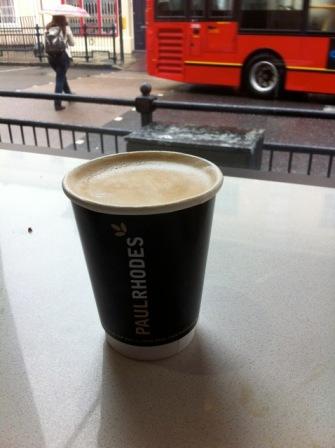 It would be fair to say that Rhodes is neither an undiscovered gem nor free from tourists. But given the years we lived without a decent - or, in fact, any - bakery in west Greenwich, now that we have one, I want to talk about it as much as possible. (They also have a shop in Notting Hill now, for those who are impressed by north London, though I'm not one of them. Go South London!)
On yet another dreary wet morning, I was there for the latte and was not disappointed. It had a good ratio of milky froth to coffee and the coffee itself was strong without being overpowering. Even the small size is more generous than the others tasted. Rhodes uses Union Coffee, a specialty artisan roaster who trades directly with coffee farmers, ensuring fairer prices for the farmers. Rhodes also uses a biodegradable insulated coffee cup and lid, which is fully compostable, the first of its kind in the UK.
Will I be back? Absolutely, though I won't be back just for the coffee.  On my rainy morning, the almond croissant I enjoyed went a long way to making my day better.
Red Door
Cost of a take away latte: £1.80 (10 Turnpin Lane, SE10 9JA)
Any discussion about Greenwich coffee has to include Red Door on Turnpin Lane. The quirky cafe, shop and gallery serves up Monmouth Coffee, the best coffee in London in my opinion, if not the world. Add to the mix the charming owners and you've got a winner.
It is a busy place. Even in the mid-afternoon, when I visited, I had to wait for a bit to get my caffeine fix. But I was more than happy to bide my time, with the classical music on the stereo and the interesting art on the walls.
The latte, as expected, was delicious due to its source material of Monmouth Coffee. Although this is the type of place where I think they'd much prefer that you stop and smell the coffee, I was able to get my latte to go. If latte is not your thing, they also offer the standard hot drinks of espresso, Americano, cappuccino and tea.
Red Door is unique and that's what makes it special. The people who scurry past to get to a chain coffee house don't know what they're missing. Red Door might not be the most conventional coffee house you've ever been to, but it certainly is one of the most memorable.
Final Verdict:
Buenos Aires had the best take away lattes, but all of the establishments had excellent reasons to visit. I have no doubt that I will return to all of them very soon, for either a coffee to go or a cake on a sofa.
Where do you think does the best latte in Greenwich? Use the comments box below to let us know...