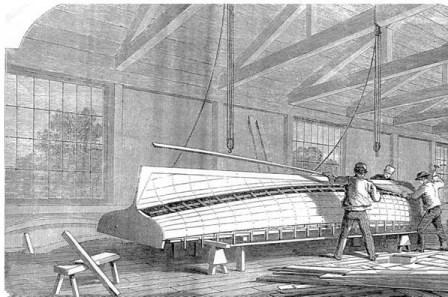 In the 1860s the Thames 'constituted the greatest shipbuilding area in the world'.  There were shipyards all up and down the river. However the Greenwich peninsula stands out being shipyard free until one manufacturer came there with a big idea.
As well as big ships there was always a need for the small craft that kept the whole system running with as many designs as purposes.  But this was someone who wanted to build boats, thousands of them, all the same. Boats had been made up and down the river for millennia – but never ones like this!
The National Company for Boat Building by Machinery had been set up by Nathan Thompson. He came from New York where Nathan had been a marine engineer. He said his system had taken him nineteen years to perfect and had been examined in New York by the United States Navy Department, He showed that it would take one man, working ten hours a day, eleven days and three hours to do it.  Within four years Thompson had come to England.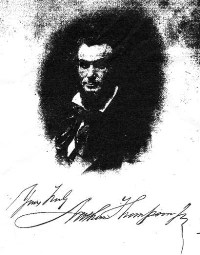 Thompson was the subject of an article by P. Barry in 'Dockyard Economy and Naval Power' who had visited Thompson's works. He praised Thompson's machinery as 'practical  ....expeditious and economical' but also drew to the manufacture of wooden nutmegs in New England. His English readers may not have known that in America Connecticut is known the 'Nutmeg State' and that a wooden nutmeg refers to a native of that state whose intentions are dishonest.
Thompson had a number of backers – chief of them Colonel Sykes, MP, Chairman of the East India Company. He produced a booklet consisting of letters of recommendation for his process which had been obtained following their visits to a demonstration works near Victoria Park in Old Ford, Hackney.  So the Company prospectus included references from an astonishing number of people including the Dukes of Cambridge and Sutherland and to an assortment of shipbuilders and industrialists. Whether any of them ordered any boats from him isn't known.  The letters are however, like the boats, mainly identical to each other.
The idea was to produce a large number of identical small boats, made by a series of machines.  Thompson claimed that 25,000 new small boats were needed every year in Britain and he thought that he could supply a quarter of these.
Boats made to a system would be useful for all sorts of things.  Space was taken up by boats on the decks of ships – they could carry more if they could be quickly assembled and disassembled. Duplicate parts could be supplied and repairs thus done without any difficulty. Thompson's boats, it was said, 'go together like a bedstead'.  Landing craft could be stowed into a single transporter and then put together when time for the invasion arrived. Boats could also be packed up for overland journeys.
His system depended on a series of machines – fourteen in all and all steam driven.  The boats, which had to be all the same, moved through the system from one to another and were built up round a central 'assembling form' which, held everything together and in the right place.  It was however calculated that labour costs for each boat made would be less than a quarter than those made by conventional means. The cheapness of boats produced by this method would mean that new boats could be bought by fisherman and others without access to large amounts of capital.  Boats could be made very quickly – within hours of the order.
Once the company had been floated it was decided to set up the permanent factory in Greenwich and the site at Horseshoe Breach was leased from Morden College, Thompson set about making the Breach fit for shipbuilding by building a causeway and putting a boom across the bay itself.  They then faced the river wall with stone.  New buildings on site were to be proper brick built structures by agreement with Morden College.
Unfortunately they went out of business in their first year.
Philip Banbury, writing in the 1970s, pointed out that Thompson did not mention that all the boats had to be the same and that there was little hope of persuading customers to buy so many of a standard type .  Banbury estimated that boats needed on the Thames was 'perhaps 300 of over a dozen types and sizes'. small boats were usually very specialist and had evolved for a wide range of tasks and conditions. Small local boatbuilders had marginal capital costs whereas Thompson's machinery required a large investment.
I don't know what happened to Thompson.  In his report to the US Navy Department he said that he had taken out patents in: the United States, England, France, Russia Belgium, Holland, Sweden, Denmark, Austria, Sardinia, Turkey and Spain.   Perhaps he went off and tried to make his system of boats pay somewhere else.  perhaps somewhere in the world he was successful and perhaps somewhere there is a memorial to him.  Perhaps, if he really was a 'wooden nutmeg' some of the capital he raised went with him and who knows what he did and where he went.
Some of the information used in this article came from Mystic Seaport Museum in Connecticut.  They wrote and said they were hurt at my description of the 'wooden nutmeg'  - he was in fact they said 'a snake oil merchant'.