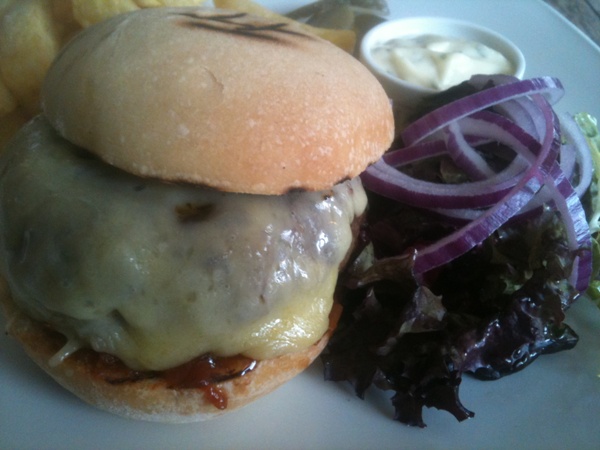 Now Byron have finally opened in Greenwich, a search for the best burger in town was on the cards (tough gig, I know). Luckily, bars and restaurants in Greenwich offer a tasty burger indeed. Here are three of the top restaurants and a little look at how their cheeseburgers compare.
Byron
I've been not all that patiently waiting for them to open and I'm thrilled they have. My burger (pictured below) was very slightly overdone, as was the service - so keen were they to impress at their soft launch, they told my dining companion the dessert options while I was still eating my burger. The loitering got a little much after a while, but I'm hoping it's just soft launch teething problems.
I do love their burgers. And I love the American cheese option. You can eat well for a little over a tenner and don't even get me started on those courgette fries. They're sprinkled with breadcrumbs and magic.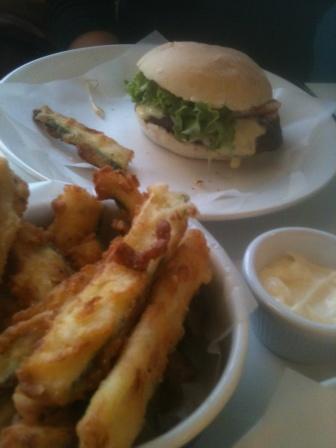 The Guildford Arms
This was actually my first trip to the Guildford Arms and it's a cute, quiet place, tucked away in Guildford Grove. The hefty burger was made from chuck beef and very delicately flavoured with worcestershire sauce, Dijon mustard and shallots
The burger itself was impressively sized for less than ten quid but came in a homemade bun that was a bit small for my liking.
I'm also never going to be convinced that tarragon mayo works with beef. Excellent pickle action, though - I'm all about slices, not wedges. But the fish and chips my companion had? That looked divine and was giving me serious pangs of lunch envy. Some of the best batter action this side of the river. I'll go back for lunch (it's £12 for two courses and £14 for three - just try and stop me), but the burger might not be my first choice.
The Old Brewery
Oh yes. This was a tasty, tasty burger. Probably my favourite, actually. It was pricy - £10.75 and an extra £1 for cheese. And erm... an extra quid for pulled pork as well. I couldn't resist. I had to. The burger is a little soggy and difficult to eat, but I don't care because it was perfectly cooked to medium and tasted fantastic.
Alas, there's no photograph because they took 'romantic' lights to a whole new level. We basically ate in the dark. Still, that's not going to stop me from coming back for a burger. I'll just pop in during the day so I can actually see.
And the rest? Greenwich Union's is tasty but very pricy once you factor in that they ask an extra £2.50 for cheddar (seriously GU dudes, that's not cool). Rivington's is always a fine option - the burger is tasty but it's their chips and that smoky ketchup that will keep a smile on your face but they've got so much choice on the menu you're likely to pick something else (probably roast potato based).
As for GBK... well they're not entirely terrible are they? But with so many decent options locally, I can't help think they're punching above their weight a little now.
The verdict? If you fancy a pint with your burger, go to the Old Brewery. If you have kids or like milkshakes head to Byron. Lunchtime? Go to the Guildford Arms for their lunchtime menu.
What do you think? What's the best burger you've had in Greenwich?